Fungalpedia – Note 55 Meyerozyma
Meyerozyma Kurtzman & M. Suzuki
Citation if using this entry: Fallahi et al. (2023) New genera in 2010-2011. Mycosphere (in prep)
Index Fungorum, Facesoffungi, MycoBank, GenBank, Fig 1
Kurtzman and Suzuki (2010) introduced Meyerozyma in Debaryomycetaceae (Saccharomycetales), based on the phylogenetic analysis of combined sequences of the D1/D2 divergent domains of the large subunit (LSU) and the nearly complete small subunit (SSU) rDNA genes. They accommodated Pichia guilliermondii and Pichia caribbica in this genus, as Meyerozyma guilliermondii and Meyerozyma caribbica (Kurtzman and Suzuki. 2010). Candida athensensis, Candida carpophila, Candida elateridarum, Candida neustonensis, and Candida smithsonii were also placed as five asexual members of the genus (Kurtzman and Suzuki. 2010; Suh and Blackwell. 2004). Later, Yurkov et al. (2017) described the new species Meyerozyma amylolytica in the Meyerozyma clade using phylogenetic analyses of ITS and LSU sequence data. They also proposed the transfer of five non-ascosporic members of the Meyerozyma clade to Meyerozyma as in the subsequent novel taxonomic combinations; Meyerozyma athensensis, Meyerozyma carpophila, Meyerozyma elateridarum, Meyerozyma neustonensis, and Meyerozyma smithsonii. Meyerozyma guilliermondii as the type species may be heterothallic or possibly homothallic. It produces unconjugated asci, evanescent or persistent, with 1-4 ascospores. The spores may be hat-shaped or ovoid and possibly ornamented with a narrow ledge. Multilateral budding occurs on a narrow base during cell division. Cells are ovoid to elongate. Pseudohyphae are usually formed, but true hyphae are absent. CoQ-9 is considered the major ubiquinone of Meyerozyma guilliermondii (Kurtzman and Suzuki. 2010).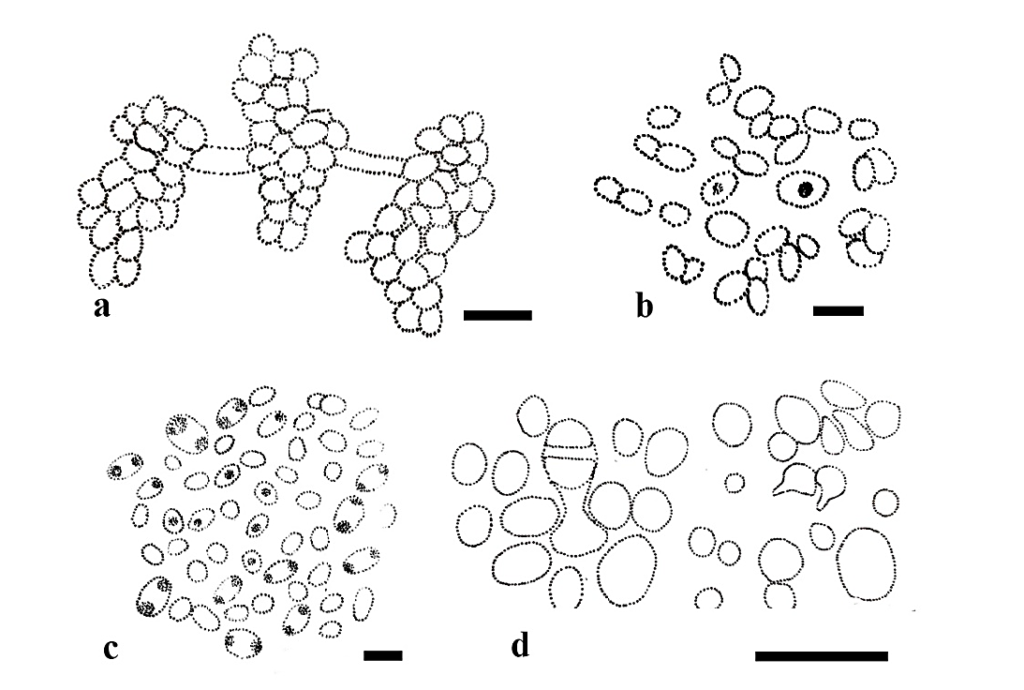 Fig 1- a–c Candida smithsonii (redraw from Suh et al. 2014). a Budding cells on cornmeal agar. b Yeast cells on 2% malt extract agar. c Pseudohyphae with blastoconidia on cornmeal agar. d Ascosporulating culture of Meyerozyma amylolytica (redraw from Yurkov et al. 2017). Scale bars; a-c=5 μm; d=10 μm.
Type species: Meyerozyma guilliermondii (Wick.) Kurtzman & M. Suzuki.
Other accepted species:
Meyerozyma amylolytica Yurkov & G. Péter
Meyerozyma athensensis (S.O. Suh & M. Blackw.) Yurkov & G. Péter
Meyerozyma caribbica (Vaughan-Mart., Kurtzman, S.A. Mey. & E.B. O'Neill) Kurtzman & M.
Meyerozyma carpophila (Phaff & M.W. Mill.) Yurkov & G. Péter
Meyerozyma elateridarum (S.O. Suh & M. Blackw.) Yurkov & G. Péter
Meyerozyma neustonensis Yurkov & G. Péter
Meyerozyma smithsonii (S.O. Suh & M. Blackw.) Yurkov & G. Péter
References
Kurtzman CP, Suzuki M. 2010- Phylogenetic analysis of ascomycete yeasts that form coenzyme Q-9 and the proposal of the new genera Babjeviella, Meyerozyma, Millerozyma, Priceomyces, and Scheffersomyces. Mycoscience 51, 2-14. https://doi.org/10.1007/S10267-009-0011-5
Suh SO, Blackwell M. 2004- Three new beetle-associated yeast species in the Pichia guilliermondii clade. FEMS Yeast Research 5, 87-95. https://doi.org/10.1016/j.femsyr.2004.06.001
Yurkov AM, Dlauchy D, Péter G. 2017- Meyerozyma amylolytica sp. nov. from temperate deciduous trees and the transfer of five Candida species to the genus Meyerozyma. International Journal of Systematic and Evolutionary Microbiology 67, 3977-3981. https://doi.org/10.1099/ijsem.0.002232
Entry by
Maryam Fallahi, Center of Excellence in Fungal Research, Mae Fah Luang
University, Chiang Rai 57100, Thailand.
(Edited by Kevin D Hyde and Ruvishika S. Jayawardena)