Fungalpedia – Note 157 Brachysporisporites
Brachysporisporites R.T. Lange & P.H. Sm.
Citation when using this data: Saxena RK & Hyde KD in prep – Fungalpedia, Fossil Fungi. Mycosphere.
Classification: Fossil fungi
Index Fungorum, MycoBank, Fig. 1
Lange and Smith (1971) instituted Brachysporisporites from the Early-Middle Eocene (56–38 mya) sediments from Maslin Bay, South Australia with the following diagnosis: "Obovate, turbinate or pyriform, phaeophragmospores of several cells, the cells much broader than long in a sharply graded series of diminishing size from a large domed apical cell to a small hyaline attachment cell, with extremely dark thick bands of septa, similarly graded towards the attachment cell." Ediger (1981) emended the diagnosis of the genus as follows: "Fungal spores of three or more cells and two or more septa, symmetrical along the long axis; clavate, obovate, pyriform or ovoid shape; cells are arranged in a graded series of diminishing size from a large domed apical cell to a relatively small hyaline or so attachment cell; one or two cells at aporate end usually bigger and making up the bulk of the spore; monoporate, pore is situated on the long axis at the narrower end of the spore; exine thickest on the biggest cell, psilate or scabrate; there may be some pits especially on the largest cell; thickness of septa variable, there may be at least one opening on septa."
Spores of Brachysporisporites are usually compared to the conidia of the modern Brachysporium Sacc. Spore Type B described by Ramanujam & Rao (1978, p. 296, pl. 1, Figs. 18-19) from Quilon and Warkalli beds (Miocene, 23–5 mya)) of Kerala, India resembles Brachysporisporites pyriformis in possessing a similar shape and nature of cells, septa and spore wall.
Synonym: Granatisporites Elsik & Janson., Journal of Botany 52: 953 (1974) fide Kalgutkar & Jansonius 2000.
Type species: Brachysporisporites pyriformis R.T. Lange & P.H. Sm.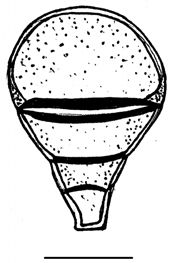 Figure 1 – Brachysporisporites pyriformis. Scale bar = 20 μm (redrawn from Lange & Smith 1971)
References
Ediger VS. 1981 – Fossil fungal and algal bodies from Thrace Basin, Turkey. Palaeontographica Abt. B 179, 87–102.
Elsik WC, Jansonius J. 1974 – New genera of Paleogene fungal spores. Canadian Journal of Botany 52, 953–958.
Kalgutkar RM, Jansonius J. 2000 – Synopsis of fungal spores, mycelia and fructifications. AASP Contribution Series 39, 1–423.
Lange RT, Smith PH. 1971. The Maslin Bay flora, South Australia. 3. Dispersed fungal spores. Neues Jahrbuch für Geologie und Paläontologie Monatsh. 11, 663–681.
Ramanujam CGK, Rao. KP. 1978 – Fungal spores from the Neogene strata of Kerala in South India, 291–304. In: Bharadwaj D.C. et al. (Editors) – Proceedings of the 4th International Palynological Conference, Lucknow 1976–77, Volume 1, Birbal Sahni Institute of Palaeobotany, Lucknow.
Entry by
Ramesh K. Saxena, Birbal Sahni Institute of Palaeosciences, Lucknow, India
Edited by Kevin D. Hyde