Fungalpedia – Note 156 Axisporonites
Axisporonites Kalgutkar & Janson.
Citation when using this data: Saxena RK & Hyde KD in prep – Fungalpedia, Fossil Fungi. Mycosphere.
Classification: Fossil fungi
Index Fungorum, MycoBank, Fig. 1
The monotypic fossil genus, Axisporonites, was instituted by Kalgutkar & Jansonius (2000) to accommodate Multicellaesporites indicus P. Kumar (1990) described from the Early-Middle Miocene (23–11.6 mya) sediments of Padappakkara, Quilon District, Kerala, South India. The fungal spores are medium-sized, inaperturate and tricellate; overall shape more or less elliptical; two polar cells smaller, triangular, with dark pigmentation and thicker walled than large, hyaline central cell; septa thicker than wall of central cell.
Type species: Axisporonites indicus (P. Kumar) Kalgutkar & Janson.
Basionym: Multicellaesporites indicus P. Kumar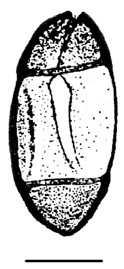 Figure 1 – Axisporonites indicus. Scale bar = 10 μm (redrawn from Kumar 1990)
References
Kalgutkar RM, Jansonius J. 2000 – Synopsis of fungal spores, mycelia and fructifications. AASP Contribution Series 39, 1–423.
Kumar P. 1990 – Fungal remains from the Miocene Quilon Bed of Kerala state, South India. Review of Palaeobotany and Palynology 63, 13–28.
Entry by
Ramesh K. Saxena, Birbal Sahni Institute of Palaeosciences, Lucknow, India
Edited by Kevin D. Hyde