Fungalpedia – Note 158 Basidiosporites
Basidiosporites Elsik
Citation when using this data: Saxena RK & Hyde KD in prep – Fungalpedia, Fossil Fungi. Mycosphere.
Classification: Fossil fungi
Index Fungorum, MycoBank, Fig. 1
The monotypic fossil genus Basidiosporites was instituted by Elsik (1968) from the Rockdale lignite (Palaeocene, 66–56 mya)) from a locality 11 km south-west of Rockdale, Milam County, Texas, USA. This genus is characterized by oval to capsular, monoporate, unicellate, psilate fungal spores with the pore offset from one apex. No basal attachment area evident. Shape variable, generally elongate in some fashion.
Synonym: Amepiospora Sal.-Cheb. & Locq.
Type species: Basidiosporites fournieri Elsik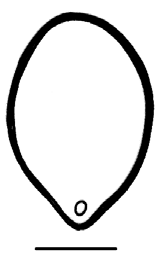 Figure 1 – Basidiosporites fournieri. Scale bar = 5 μm (redrawn from Elsik 1968)
References
Elsik WC. 1968 – Palynology of a Paleocene Rockdale lignite, Milam County, Texas. 1. Morphology and taxonomy. Pollen Spores 10(2), 263–314.
Salard-Cheboldaeff M, Locquin MV. 1980 – Champignons présents au Tertiaire le long du littoral de l'Afrique équatoriale. 105e Congrès National des Sociétés savantes, Caen, 1980, Sciences, fascicule 1, 183–195.
Entry by
Ramesh K. Saxena, Birbal Sahni Institute of Palaeosciences, Lucknow, India
Edited by Kevin D. Hyde