Fungalpedia – Note 155 Appendicisporonites
Appendicisporonites R.K. Saxena & S. Khare 1992 (Fossil).
Citation when using this data: Saxena RK & Hyde KD in prep – Fungalpedia, Fossil Fungi. Mycosphere.
Classification: Ascomycota, Microthyriales?.
Index Fungorum, MycoBank, Fig. 1
The monotypic fossil genus, Appendicisporonites, was described from the Neyveli Formation (Eocene, 56–40 mya) of Jayamkondacholapurum Well-12, Tiruchirapalli District, Tamil Nadu, India (Saxena & Khare 1992). The genus is characterized by subcircular, inaperturate and multicellular fungal spores. Each cell possesses a long process, processes septate or aseptate, with pointed or blunt tips, wall psilate. According to Kalgutkar and Jansonius (2000), the illustrated specimen appears to be related to the setose pycnidia found in some coelomycetes.
Type species: Appendicisporonites typicus R.K. Saxena & S. Khare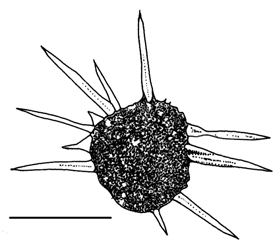 Figure 1 – Appendicisporonites typicus. Scale bar = 50 μm (redrawn from Saxena & Khare 1992)
References
Kalgutkar RM, Jansonius J. 2000 – Synopsis of fungal spores, mycelia and fructifications. AASP Contribution Series 39, 1–423.
Saxena RK., Khare S. 1992 – Fungal remains from the Neyveli Formation of Tiruchirapalli District, Tamil Nadu, India. Geophytology 21, 37–43.
Entry by
Ramesh K. Saxena, Birbal Sahni Institute of Palaeosciences, Lucknow, India
Edited by Kevin D. Hyde