Fungalpedia – Note 154 Ascochytites
Ascochytites Teterevn.-Babajan & Tasl. (Fossil).
= Ascochytites Barlinge & Paradkar
Citation when using this data: Saxena RK & Hyde KD in prep – Fungalpedia, Fossil Fungi. Mycosphere.
Classification: Fossil Ascomycota
Index Fungorum, MycoBank, Fig. 1
The monotypic fossil genus, Ascochytites, was described from the Deccan Intertrappean Series (?Late Cretaceous, 75–66 mya) of Mohgaon Kalan, Chhindwara District, Madhya Pradesh, India. The genus comprises a saprobic sphaeropsidaceous taxon with ostiolate pycnidia; hyphae septate, branched; conidia small.
The name Ascochytites was first used by Teterevnikova-Babaian & Taslakhchian (1973), but was not then validly published due to lack of illustration of the spores. Barlinge and Paradkar probably were not aware of this earlier publication, when they proposed Ascochytites as a new genus, with A. intertrappeus as its type (fide Kalgutkar & Jansonius 2000).
Type species: Ascochytites intertrappeus Barlinge & Paradkar.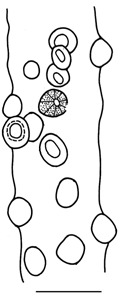 Figure 1 – Ascochytites intertrappeus. Scale bar = 200 μm (redrawn from Barlinge & Paradkar 1982)
References
Barlinge SG, Paradkar SA. 1982 – Records of new fossil algal and fungal forms from the Deccan Intertrappean of Mohgaon Kalan, M.P., India. Botanique 10(1–4), 163–174.
Kalgutkar RM, Jansonius J. 2000 – Synopsis of fungal spores, mycelia and fructifications. AASP Contribution Series 39, 1–423.
Teterevnikova-Babaian DN, Taslakhchian MG. 1973 – New data on fossil fungal spores in Armenia. Academy of Sciences of the USSR, Mycology and Phytology 4, 159–164.
Entry by
Ramesh K. Saxena, Birbal Sahni Institute of Palaeosciences, Lucknow, India
Edited by Kevin D. Hyde