Fungalpedia – Note 33 Neoflabelliforma
Neoflabelliforma D.J. Morris & M.A. Freeman
Citation if using this entry: Fallahi et al. (2023) New genera in 2010-2011. Mycosphere (in prep)
Index Fungorum, Facesoffungi, MycoBank, GenBank, Fig 1.
Neoflabelliforma with Neoflabelliforma aurantiae as the type species is an obligate microsporidian parasite associated with Tubifex tubifex (Annelida) and collected in Scotland (Morris and Freeman. 2010). Ultrastructural and phylogenetic analysis based on the ssrDNA sequence revealed similarities between the new microsporidian and Flabelliforma magnivora, but not with the type species Flabelliforma montana. Therefore, a new genus Neoflabelliforma was introduced, and Flabelliforma magnivora (Larsson et al. 1998) was reassigned as a new combination. Weng et al. (2023) reported a new species Neoflabelliforma dubium from the adipose tissue of Diaphanosoma dubium in China. In this microsporidian, multinucleate sporogonial plasmodial stages divide by plasmogamy. Sporophorous vesicles formed during sporogony, with a fragile interfacial envelope. Primordial exospores are associated with dense tubular structures extending from the surface of sporont. Meronts, sporonts, sporoblasts, and spores are uninucleate. Polaroplast are composed of packed lamellae organized parallel to the spore wall. Isofilar polar filaments are arranged in several rows towards the spore's middle, and a single row at the posterior. Endospores are uniform and exospores are stratified into various layers (Morris and Freeman. 2010).
Type species: Neoflabelliforma aurantiae D.J. Morris & M.A. Freeman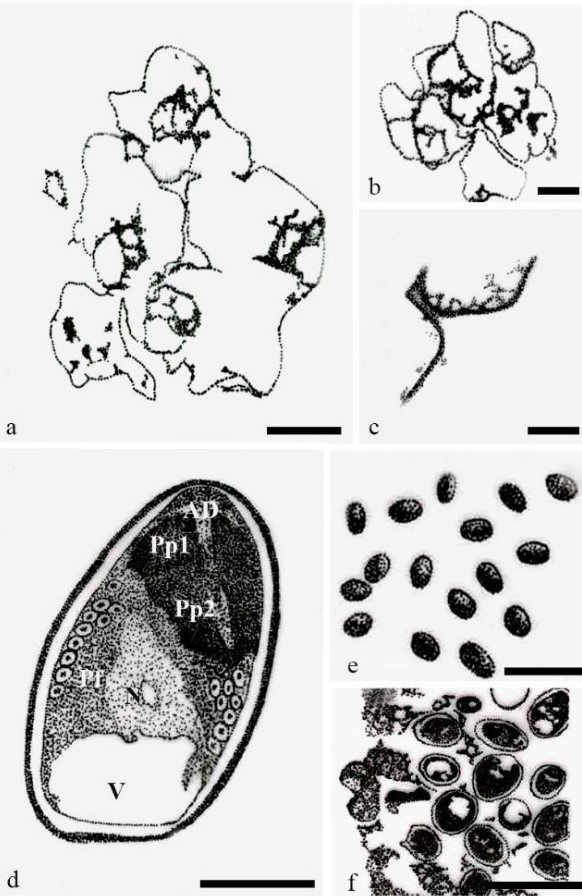 Fig 1– Neoflabelliforma dubium (redrawn from Weng et al. 2023). a Multinucleate sporogonial plasmodia developed into sporoblasts by rosette-like budding. b Five irregular sporoblasts in direct contact with the host cell cytoplasm. c Magnification of electron-dense tubular projections on the cell plasma membrane. d Mature spores with a mushroom-shaped anchor disc, isofilar polar filament, vacuole, bipartite polaroplast, large nucleus, and trilaminar spore wall. e Fresh spores liberated from infected Diaphanosoma dubiu. f Mature spores residing in direct contact with the host cell cytoplasm. Scale bars: a=2 µm; b=100 µm; c, d=1 µm; e=10 µm; f=5 µm.
References
Larsson JR, Ebert D, Manginand KL, Vavra J. 1998- Ultrastructural study and description of Flabelliforma magnivora sp. n. (Microspora: Duboscqiidae), a microsporidian parasite of Daphnia magna (Crustacea: Cladocera: Daphniidae). Acta Protozoologica 37, 41-52.https://rcin.org.pl/ibd/Content/13307/WA488_17712_P1825-T37- nr1_AP.pdf#page=43
Morris DJ, Freeman MA. 2010- Hyperparasitism has wide-ranging implications for studies on the invertebrate phase of myxosporean (Myxozoa) life cycles. International journal for parasitology 40, 357-369.https://doi.org/10.1016/j.ijpara.2009.08.014
Weng M, Zhang X, Xin Z, Xue S, Zhang Q, Li A, Zhang J. 2023- Morphological characterization and genetic diversity of a new microsporidium, Neoflabelliforma dubium n. sp. from the adipose tissue of Diaphanosoma dubium (Crustacea: Sididae). Frontiers in Cellular and Infection Microbiology 13, p.53. https://doi.org/10.3389/fcimb.2023.1125394
Entry by
Maryam Fallahi, Center of Excellence in Fungal Research, Mae Fah Luang University, Chiang Rai 57100, Thailand.
(Edited by Kevin D Hyde)