Fungalpedia – Note 118 Fusasporis
Fusasporis J. Lovy, R.P.E. Yanong, J.M. Stilwell, T.B. Waltzek, J.P. Shelley, D.B. Pouder, J.C. Wolf & A.C. Camus
Citation when using this entry: Selçuk et al., in prep – Genera and higher taxa introduced in 2023. Mycosphere.
Index Fungorum, Facesoffungi, MycoBank, GenBank, Fig 1
This genus is monotypic, which is the causative agent of tetra disseminated microsporidiosis, a new disease in ornamental fish of cardinal tetra and black tetra. The non-xenoma-forming microsporidium occurred diffusely in most internal organs and the gills, thus referring to the condition as tetra disseminated microsporidiosis. Based on combined phylogenetic and ultrastructural characteristics, the genus was proposed by Lovy et al. (2021), with F. stethaprioni as the type species. In microscopic preparations, spores were uniform measuring 3.9 ± 0.33 μm (range = 3.2–3.7 μm) x 2 ± 0.2 μm (range = 1.6–2.5) wide. It was identified from captive fish populations from the USA. The closest microsporidia to F. stethaprioni are Glugea spp., though its relationship to Glugea is not yet clear. The branching in the tree indicates that F. stethaprioni may form a basal group to Glugea spp. though this branching was poorly supported, due to inadequate taxa sampling of closely related species. Larger taxa sampling will reveal the relationship of Fusasporis to Loma and Glugea. The lower sequence similarity to species within Glugea also supports that it is separated from Glugea spp. The taxonomic placement of Fusasporis is in Pleistophoridae (Marinosporidia, Microsporidia).
Type species: Fusasporis stethaprioni J. Lovy, R.P.E. Yanong, J.M. Stilwell, T.B. Waltzek, J.P. Shelley, D.B. Pouder, J.C. Wolf & A.C. Camus
Other accepted species: The genus is monotypic.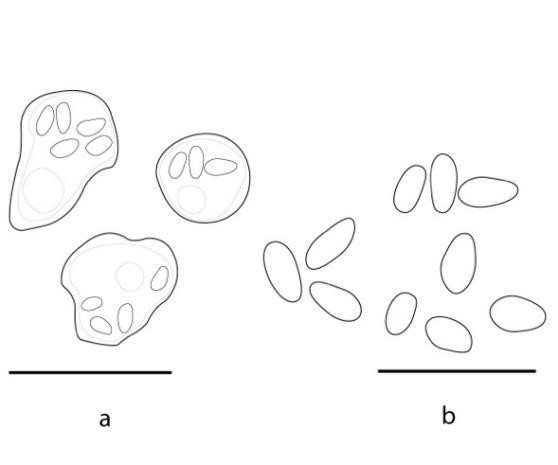 Figure 1 – Fusasporis stethaprioni a Spores within host cells, b Spores. Scale bar a = 20 μm, b = 10 μm (redrawn from Lovy et al. 2021).
Reference
Lovy J, Yanong RPE, Stilwell JM, Waltzek TB et al. 2021 – Tetra disseminated microsporidiosis: a novel disease in ornamental fish caused by Fusasporis stethaprioni n. gen. n. sp. Parasitology Research 120, 497–514.
Entry by
Faruk Selçuk and Merve Ulukapı, Kırşehir Ahi Evran University, Sciences and Arts Faculty, Department of Molecular Biology and Genetics, Kırşehir, Türkiye.
(Edited by Kevin D. Hyde)