Fungalpedia – Note 128 Epicoccum
Epicoccum Link
Citation when using this entry: Aumentado et al. in prep – Fungalpedia, plant pathogens. Mycosphere.
Index Fungorum, Facesoffungi, MycoBank, GenBank, Fig *.
Ascomycota, Pezizomycotina, Dothideomycetes, Pleosporomycetidae, Pleosporales, Didymellaceae
Epicoccum is characterized by its epicoccoid conidia and placed in the Didymellaceae with E. nigrum as its type species (Aveskamp et al. 2010). Epicoccum was emended by Aveskamp et al. (2010) and Chen et al. (2015) to accommodate seven species previously belonging to Phoma with their definite morphology and phylogenetic placement establishing the genus. Additional features including irregular pycnidial conidiomata and subcylindrical conidia were supplemented to delineate these species (Chen et al. 2015). There are 89 recognized species of Epicoccum listed in Species Fungorum (2023), however, only 50 species are identified from culture and molecular sequence data based on the internal transcribed spacer (ITS) region and the 28S ribosomal RNA gene (LSU), and protein-coding genes: beta-tubulin (β-tub) and RNA polymerase II second largest subunit (RPB2) gene (Chethana et al. 2019, Huo et al. 2020, Manawasinghe et al. 2020, Tan et al. 2021, Keirnan et al. 2021, Abeywickrama et al. 2023).
This genus has pycnidial conidiomata that are single or confluent, globose to subglobose or irregular-form, superficial or immersed into agar media. The ostioles can be papillate or apapillate and may have distinct necks. The pycnidial wall is pseudoparenchymatous and comprises 2-9 layers, with a brown olivaceous exterior wall. The conidiogenous cells are phialidic, hyaline, smooth, ampulliform, and globose to flask-shaped. The conidia differ in shape and size, and they can be hyaline or, in mature stages, have a faint brownish coloration. The conidia are smooth- and thin-walled, ranging from ovoid and ellipsoidal to oblong and (sub-) cylindrical, possibly slightly curved, and constantly aseptate (Boerema et al. 2004, Aveskamp et al. 2010). The synasexual morph of Epicoccum exhibits semi-immersed sporodochia that are scattered or congregated and clavate. The conidia in the synasexual morph are multicellular-phragmosporous, with septa that are obscured by the dark verrucose wall which vary in size and appear as single, terminal elements of mycelial branches from roughly globose pseudoparenchymatous stroma in gradually expanding clusters. The chlamydospores are variable and irregular, and they can be unicellular or multicellular, intercalary or terminal, and single, or in chains. Chlamydospores can be smooth, verrucose, or occasionally tuberculate, ranging from subhyaline to dark brown. In multicellular forms, the chlamydospores can be globose or irregularly shaped, and they can be dictyosporous or botryoid (Boerema et al. 2004, Aveskamp et al. 2010, Chen et al. 2015).
Epicoccum species are important plant pathogens associated with diseases of more than 60 plant species that occur in >20 countries from diseased leaves, seeds, stems, and fruit. Epicoccum causes post-harvest fruit decay, stem lesions, seed infection, and leaf spots which the latter is the most frequently reported disease symptom (Taguiam et al. 2021). Two of the most commonly reported phytopathogenic species are E. nigrum and E. sorghinum. Epicoccum nigrum causes leaf spots of Solanum tuberosum (Jin et al. 2023), Camellia sinensis (Yin et al. 2022), Vigna unguiculata (Deepika et al. 2021), Lablab purpureus (Mahadevakumar et al. 2014), and Eriobotrya japonica (Wu et al. 2017); and E. sorghinum causes leaf spots of Zea mays (Yu et al. 2023), Glycine max (Mao et al. 2023), Hylocereus species (Taguiam et al. 2020), Saccharum officinarum (Laurel et al. 2020), and Colocasia esculenta (Liu et al. 2018), among others. Epicoccum poaceicola causes leaf spots in eggplant (Aumentado & Balendres 2023). Pathogenicity studies of Epicoccum species demonstrated that they can cross-infect other solanaceous vegetables (Aumentado & Balendres 2023), infect seedlings and seeds of sorghum (Ristić et al. 2012), and reduce sugar levels (Brix) of sugarcane (Laurel et al. 2020).
Type species: Epicoccum nigrum Link
For other species: Species Fungorum, search Epicoccum for names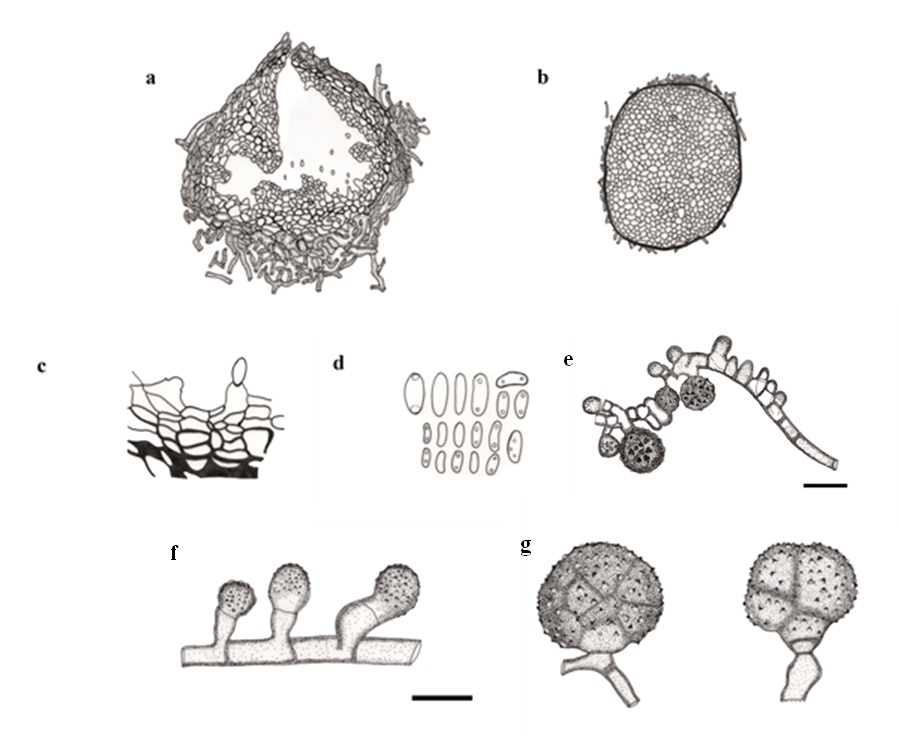 Figure 1. Epicoccum nigrum (redrawn from Punithalingam et al. 1972). a Pycnidium. b, c Pycnidial wall and conidiophores. d Conidia. e, f Conidia development at hyphae. g Conidia. Scale bars = 10 µm.
References
Abeywickrama PD, Qian N, Jayawardena RS, Li Y et al. 2023 – Endophytic fungi in green manure crops; friends or foe? Mycosphere 14(1), 1–106.
Aveskamp MM, de Gruyter J, Woudenberg JHC, Verkley GJM et al. 2010 – Highlights of the Didymellaceae: a polyphasic approach to characterize Phoma and related pleosporalean genera. Studies in Mycology 65(1), 1–60.
Aumentado HD, Balendres MA. 2023 – Identification of Epicoccum poaceicola causing eggplant leaf spot and its cross-infection potential to other solanaceous vegetable crops. Archives of Phytopathology and Plant Protection 56(11), 872–888.
Boerema GH. 2004 – Phoma identification manual: differentiation of specific and infra-specific taxa in culture. CABI.
Chen Q, Jiang JR, Zhang GZ, Cai L et al. 2015 – Resolving the Phoma enigma. Studies in mycology 82, 137–217.
Chethana KWT, Jayawardena RS, Zhang W, Zhou YY et al. 2019 – Molecular characterization and pathogenicity of fungal taxa associated with cherry leaf spot disease. Mycosphere 10, 490–530.
Deepika YS, Mahadevakumar S, Amruthesh KN, Lakshmidevi N. 2021 – First report of Epicoccum nigrum associated with leaf spot disease of cowpea (Vigna unguiculata) from India. Journal of Plant Pathology 103, 391–392.
Hou LW, Groenewald JZ, Pfenning LH, Yarden O et al. 2020 – The phoma-like dilemma. Studies in Mycology 96, 309–396.
Jin M, Yang C, Wang Y, Wei L et al. 2023 – Isolation and identification of Epicoccum nigrum as the causal agent in China. Plant Pathology 72(4), 829–838.
Keirnan EC, Tan YP, Laurence MH, Mertin AA. 2021 – Cryptic diversity found in Didymellaceae from Australian native legumes. MycoKeys 78, 1.
Laurel NR, De Torres RL, Mendoza JVS et al. 2021 – Identification of Epicoccum sorghinum and its Effect on Stalk Sugar Yield. Sugar Tech 23, 1383–1392.
Liu PQ, Wei MY, Zhu L, Wang RB et al. 2018 – First report of leaf spot on taro caused by Epicoccum sorghinum in China. Plant Disease. 102(3), 682.
Mahadevakumar S, Jayaramaiah KM, Janardhana GR. 2014 – First report of leaf spot disease caused by Epicoccum nigrum on Lablab purpureus in India. Plant Disease 98(2), 284.
Manawasinghe IS, Li X, Zhang W, Zhou Y et al. 2020 – Morphological and phylogenetic characterisation of endophytic fungi associated with the grapevine flowers in China. Phytotaxa 455(2), 95–118.
Mao X, Dong L, Luan X, Zhang Y et al. 2023 – First Report of Leaf Spot on Soybean Caused by Epicoccum sorghinum in Heilongjiang Province, China. Plant Disease. Doi.org/10.1094/PDIS-12-22-2899-PDN.
Punithalingam E, Tulloch M, Leach CM. 1972 – Phoma epicoccina sp. nov. on Dactylis glomerata. Transactions of the British Mycological Society 59(2), 341–345.
Ristić D, Milosevic-Stankovic I, Vucurovic A, Berenji J et al. 2012 – Epicoccum nigrum novi patogen semena sirka u Srbiji. Ratarstvo i povrtarstvo 49(2), 160–6.
Species Fungorum 2023. Accessed on June 22, 223, at URL: https://speciesfungorum.org/.
Taguiam JD, Evallo E, Bengoa J, Maghirang R et al. 2020 – Pathogenicity of Epicoccum sorghinum towards dragon fruits (Hylocereus species) and in vitro evaluation of chemicals with antifungal activity. Journal of Phytopathology 168(6), 303–310.
Taguiam JD, Evallo E, Balendres MA. 2021 – Epicoccum species: Ubiquitous plant pathogens and effective biological control agents. European Journal of Plant Pathology.159, 713–725.
Tan, Bransgrove, Marney, Ryley et al. 2021 – Index Fungorum 511, 7
Wu D, Zhang DH, Timko MP, Li MY et al. 2017 – First report of Epicoccum nigrum causing brown leaf spot of loquat in Southwestern China. Plant disease 101(8), 1553.
Yin QX, Jiang SL, Li DX, Huang HL et al. 2022 – First report of Epicoccum nigrum causing brown leaf spot in tea in Guizhou Province, China. Plant Disease 106(1), 321.
Yu X, Li Z, Han R, Zhang W et al. 2023 – Epicoccum sorghinum as leaf spot disease-causing pathogen in ginger (Zingiber officinale Rosc.) in China. Crop Protection 170, 106263.
Entry by
Herbert Dustin R. Aumentado, Center of Excellence in Fungal Research and School of Science, Mae Fah Luang University, Chiang Rai, Thailand
Edited by Kevin D. Hyde & Ruvishika S. Jayawardena