Fungalpedia – Note 166 Colligerites
Colligerites K.P. Jain & R.K. Kar
Citation when using this data: Saxena RK & Hyde KD in prep – Fungalpedia, Fossil Fungi. Mycosphere.
Classification: Tubeufiaceae, Tubeufiales, Dothideomycetes, Ascomycota.
Index Fungorum, MycoBank, Fig. 1
Jain & Kar (1979) proposed Colligerites to accommodate Involutisporonites kutchensis R.K. Kar & R.K. Saxena 1976, described from the Matanomadh Formation (Palaeocene, 66–56 mya) of Matanomadh, Kutch District, Gujarat, India, with the following diagnosis: "Spores multicellular, coiled, cells generally smaller, rounded in central region and bigger, rectangular in outer region. Spore wall mostly laevigate, sometimes granulose. Pore may be present or absent in each cell." Several asexual ascomycetes in the family Tubeufiaceae have similar ascospores (Boonmee et al. 2011, Dong et al. 2020).
Type species: Colligerites kutchensis (R.K. Kar & R.K. Saxena) K.P. Jain & R.K. Kar
= Involutisporonites kutchensis R.K. Kar & R.K. Saxena.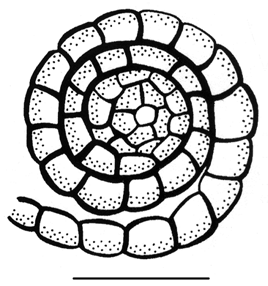 Figure 1 – Colligerites kutchensis. Scale bar = 50 μm (redrawn from Jain & Kar 1979)
References
Boonmee S, Zhang Y, Chomnunti P, Chukeatirote E et al. 2011 – Revision of lignicolous Tubeufiaceae based on morphological reexamination and phylogenetic analysis. Fungal Diversity 51, 51–63
Jain KP, Kar RK. 1979 – Palynology of Neogene sediments around Quilon and Varkala, Kerala coast, South India–I. Fungal remains. Palaeobotanist 26, 105–118.
Kar RK, Saxena RK. 1976 – Algal and fungal microfossils from Matanomadh Formation (Palaeocene), Kutch, India. Palaeobotanist 23, 1–15.
Dong W, Wang B, Hyde KD, McKenzie EHC et al. 2020 – Freshwater Dothideomycetes. Fungal Diversity 105, 319–575
Entry by
Ramesh K. Saxena, Birbal Sahni Institute of Palaeosciences, Lucknow, India
Edited by Kevin D. Hyde