Fungalpedia – Note 165 Circinoconites
Circinoconites R. Kar, Mand. & R.K. Kar
Citation when using this data: Saxena RK & Hyde KD in prep – Fungalpedia, Fossil Fungi. Mycosphere.
Classification: Fossil Ascomycota
Index Fungorum, MycoBank, Fig. 1
Kar et al. (2010) instituted Circinoconites from the Bhuban Formation (Early Miocene, 23–16 mya) of Tlangsam, Mizoram, India with the following diagnosis: "Fungal conidia, conidia acrogenous, strongly spiralled, spirals 30–39 x 25–31 μm; solitary, coiled, not in chains or slime, 8–14 septate, fist-shaped, dark brown, constricted at septa, cells increasing in diameter from base to apex, dissimilar, spirally arranged."
Several genera of hyphomycetes, especially those from freshwater, have similar spores to those of Circinoconites.
Type species: Circinoconites arthrus R. Kar, Mand. & R.K. Kar.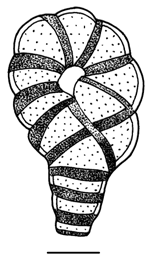 Figure 1 – Circinoconites arthrus. Scale bar = 10 μm (redrawn from Kar, Mandaokar & Kar 2010).
Reference
Kar R, Mandaokar BD, Kar RK. 2010 – Fungal taxa from the Miocene sediments of Mizoram, northeast India. Review of Palaeobotany and Palynology 158, 240–249.
Entry by
Ramesh K. Saxena, Birbal Sahni Institute of Palaeosciences, Lucknow, India
Edited by Kevin D. Hyde