Fungalpedia – Note 116 Anastomitrabeculia
Anastomitrabeculia Bhunjun, Phukhams. & K.D. Hyde
Citation when using this entry: Norphanphoun et al., in prep – Fungalpedia, genera and higher taxa described in 2021. Mycosphere.
Index Fungorum, Facesoffungi, MycoBank, GenBank, Fig 1.
Bhunjun et al. (2021) introduced Anastomitrabeculia as a monotypic genus within Anastomitrabeculiaceae, Pleosporales with the type species Anastomitrabeculia didymospora. Anastomitrabeculia fits the morphology of Pleosporales by having perithecioid ascomata, pseudoparaphyses, bitunicate asci and hyaline, septate ascospores (Hongsanan et al. 2020). The taxon was introduced as a saprobe based on morphology, phylogenetic analyses and divergence time estimates using a combined LSU, SSU and tef-1α dataset. Anastomitrabeculiaceae is closely related to Halojulellaceae, however, Halojulellaceae is morphologically different due to the presence of cellular pseudoparaphyses and golden brown ascospores (Ariyawansa et al. 2013). Anastomitrabeculia is known only from its sexual morph and it is characterised by having carbonaceous ascomata, with orange pigment near the ostiole and hyaline ascospores with longitudinally striate wall ornamentation (Bhunjun et al. 2021). Anastomitrabeculia didymospora was collected from dead bamboo culms from freshwater in Krabi Province, Thailand and it is the only species listed in Index Fungorum (2023).
Type species: Anastomitrabeculia didymospora Bhunjun, Phukhams. & K.D. Hyde
Other accepted species: This genus is monotypic.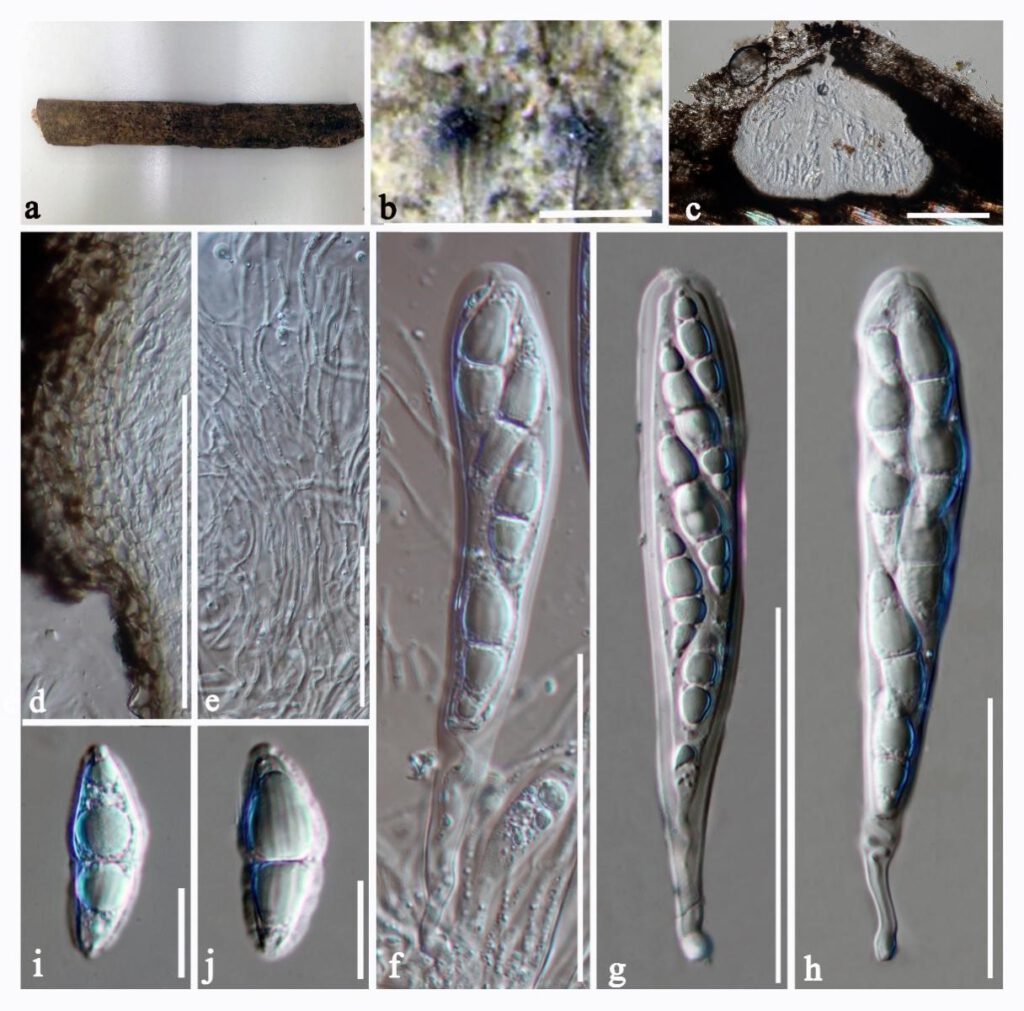 Figure 1 – Anastomitrabeculia didymospora (MFLU 20-0694, holotype). a Ascomata on host. b Close-up of ascomata. c Vertical section of ascoma. d Peridium layer. e Pseudoparaphyses. f-h Asci. i-j Ascospores. Scale bars: b = 500 µm, c = 200 µm, d-h = 50 µm, i-j = 10 µm.
References
Ariyawansa HA, Jones EB, Suetrong S, Alias SA et al. 2013 – Halojulellaceae a new family of the order Pleosporales. Phytotaxa 130, 14–24.
Bhunjun CS, Phukhamsakda C, Jeewon R, Promputtha I et al. 2021 – Integrating different lines of evidence to establish a novel ascomycete genus and family (Anastomitrabeculia, Anastomitrabeculiaceae) in Pleosporales. Journal of Fungi 7, 94.
Hongsanan S, Hyde KD, Phookamsak R, Wanasinghe DN et al 2020 – Refined families of dothideomycetes: Dothideomycetidae and Pleosporomycetidae. Mycosphere 11, 1553–2107.
Entry by
Chitrabhanu S. Bhunjun, Center of Excellence in Fungal Research and School of Science, Mae Fah Luang University, Chiang Rai, Thailand
(Edited by Kevin D. Hyde)