Fungalpedia – Note 150 Alleppeysporonites
Alleppeysporonites Ramanujam & K.P. Rao
Citation when using this data: Saxena RK & Hyde KD in prep – Fungalpedia, fossil fungi. Mycosphere.
Classification: Fossil Ascomycota.
Index Fungorum, Facesoffungi, MycoBank, GenBank
The monotypic fossil genus, Alleppeysporonites, was described from the Quilon and Warkalli beds (Miocene, 23–3 mya) of Kerala along the west coast of South India (Ramanujam & Rao 1978) and was diagnosed as: "Spores branched, brownish, multicellular, inaperturate, septa only transverse, branches one or two per spore, gently curved. Basal and terminal cells each with a conspicuous appendage. Spore wall psilate to scabrate." The branched nature and the presence of appendages are the important features of this spore type. The fossil taxon shows striking similarity to the dematiaceous asexual Ascomycota Grallomyces (Barnett 1956, Ellis 1971, Subramanian 1971). The appendages of the fossil are similar to the stalked attachment organs of Grallomyces conidia. The spore wall in Grallomyces is minutely verrucate whereas in the fossil spores it is essentially scabrate. Alleppeysporonites was found occasionally in the Warkalli beds. It was also seen, although rarely, in the clay samples of the Padappakkara area.
Type species: Alleppeysporonites scabratus Ramanujam & K.P. Rao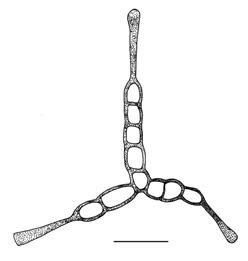 Figure 1 – Alleppeysporonites scabratus. Scale bar = 20 μm (redrawn from Ramanujam & Rao 1978)
References
Barnett HL. 1956 – Illustrated genera of imperfect fungi. Burgess Publishing Company, Minneapolis, 218 p.
Ellis MB. 1971 – Dematiaceous Hyphomycetes. Commonwealth Mycological Institute, Kew, England, 608 p.
Ramanujam CGK, Rao. KP. 1978 – Fungal spores from the Neogene strata of Kerala in South India, 291–304. In: Bharadwaj D.C. et al. (Editors) – Proceedings of the 4th International Palynological Conference, Lucknow 1976–77, Volume 1, Birbal Sahni Institute of Palaeobotany, Lucknow.
Subramanian CV. 1971 – Hyphomycetes, an account of Indian species, except Cercosporae. Indian Council of Agricultural Research, New Delhi, 930 p.
Entry by
Ramesh K. Saxena, Birbal Sahni Institute of Palaeosciences, Lucknow, India
Edited by Kevin D. Hyde