Fungalpedia– Note 6 Spencermartinsia
Spencermartinsia A.J.L. Phillips, A. Alves & Crous
Citation if using this entry: Noorabadi MT & Hyde KD (2023) New genera in 2008. Mycosphere (in press)
Index Fungorum Identifier 511762, Facesoffungi, MycoBank, GenBank, Fig 1
Spencermartinsia was introduced by Phillips et al. (2008), and this genus was typified by Spencermartinsia viticola Phillips, Alves & Crous (= Botryosphaeria viticola Phillips & Luque) that originally was isolated from pruned canes of Vitis vinifera in Spain. Phylogenetic analysis of combined SSU, LSU, ITS, β-tubulin and EF1-α sequences placed this genus in Botryosphaeriaceae, Botryosphaeriales, Dothideomycetes. Phylogenetic results revealed that Spencermartinsia formed a distinct clade from other allied genera such as Botryosphaeria and Dothiorella in Botryosphaeriaceae. The main morphological characteristics of this genus are brown, 2-celled ascospores with an apiculus at either end (Phillips et al. 2008).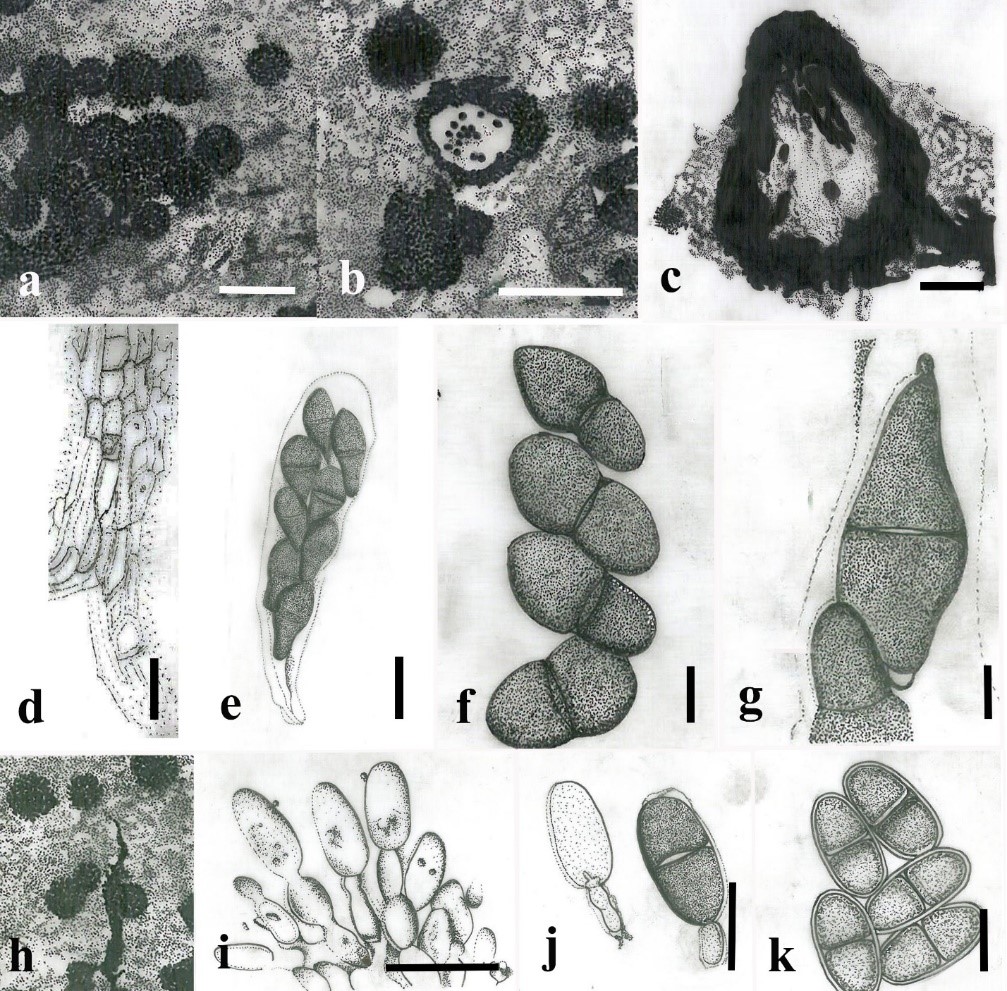 Fig 1. Spencermartinsia viticola (redrawn from Phillips et al. 2008). a Ascomata erumpent through host bark. b Ascoma cut horizontally. c Vertical section through an ascoma. d Pseudoparaphyses. e Ascus. f Ascospores. g Ascospores with small rounded apiculi. h Conidiomata on the host bark. i Conidiogenous cells. j Conidiogenous cells. k Conidia. Scale bars: a, h=500μm, b=250μm, c=50μm, d–g, i–k=10μm.
The existence of apiculi is the discriminating character between Spencermartinsia and the morphologically allied genera, Botryosphaeia and Dothiorella (Phillips et al. 2008). Spencermartinsia produces 1-septate, dark brown, striate conidia which become pigmented and septate at the early stages, while still attached to the conidiogenous cell (Phillips et al. 2008). Meanwhile, some morphological aspects of the a sexual morph (colony morphology) can also be used to differentiate this species from others in Dothiorella (Luque et al. 2005; Phillips et al. 2008). The reverse side of colonies of S. viticola become red-brown after 3–5 days on PDA at 25°C, with a progressive darkening of the pigment after 6–10 days (Luque et al. 2005; Phillips et al. 2008).
Type species: S. viticola
Other accepted species:
S. capri-amissi F.J.J. Van der Walt, Slippers & G.J. Marais
S. yunnana Y. Zhang ter & Min Zhang.
References
Luque J, Martos S, Phillips AJ L. 2008 – Botryosphaeria viticola sp. nov. on grapevines, a new species with a Dothiorella anamorph. Mycologia 97 (5), 1111–1121. https://doi.org/10.1080/15572536.2006.11832759
Phillips AJL, Alves A, Pennycook SR, Johnston PR, Ramaley A, Akulov A, Crous PW. 2008 – Resolving the phylogenetic and taxonomic status of dark-spored teleomorph genera in the Botryosphaeriaceae. Persoonia-Molecular Phylogeny and Evolution of Fungi 21 (1), 29–55. https://doi.org/10.3767%2F003158508X340742
Entry by
Maryam Tavakol Noorabadi, Center of Excellence in Fungal Research, Mae Fah Luang University, Chiang Rai 57100, Thailand.
(Edited by Kevin D. Hyde)