Fungalpedia – Note 144 Serpula
Serpula (Pers.) Gray
Citation if using this entry: Bera et al. (in prep) – Fungalpedia, Basidiomycota 1. Mycosphere
Index Fungorum, MycoBank, Facesoffungi, GenBank, Fig. 1
Serpulaceae, Boletales, Agaricomycetes, Basidiomycota, Fungi
The term "Serpula" was initially regarded as a section (Merulius sect. Serpula Pers.) under another genus Merulius Fr. by C.H. Persoon (1801). Later, Gray (1821) recognized Serpula as a separate genus. Nevertheless, there has consistently been a debate regarding the taxonomic classification of Serpula. After studying various series of specimens of Merulius (as defined by Fries and Burt), Cooke (1943) concluded the generic level of Serpula based on S. lacrymans (Wulfen) J. Schröt. that would encompass species with dark-colored basidiospores. The members of this genus are characterized by resupinate, rarely pileate, fleshy or sometimes floccose, membranous, generally dark-brown basidiomata (Cooke 1957). The hymenium is poroid with obtuse-edged pores. No type of cystidia has been documented in members of Serpula (Cooke 1957). The basidiospores can be smooth to rarely verrucose, usually globose to ovoid, and range from yellowish to rusty or brownish (Cooke 1957). Serpula, a member of the family Serpulaceae, represents a true saprobe behavior causing brown rot. Among its many saprotrophic species, is the destructive house-invading dry rot taxa, S. lacrymans. However, by inferring the evolutionary history of Serpulaceae based on SSU, LSU, 5.8S, rpb2, tef 1 sequence data, Skrede et al. (2011) concluded that Serpula clusters with two closely related ectomycorrhizal genera, Austropaxillus Bresinsky & Jarosch and Gymnopaxillus E. Horak, the three composing the family Serpulaceae. To date, approximately 15 species of Serpula have been documented worldwide as per Species Fungorum (https://www.speciesfungorum.org/). Though a lot of application-based research has been done on S. lacrymans, there has been limited documentation regarding the other taxa of this genus.
Synonym: Plicaturella Murrill, Xylophagus Link, Xylomyzon Pers., Gyrophora Pat., and Gyrophana Pat.
Type species: Serpula lacrymans (Wulfen) J. Schröt
Other accepted species: Refer Species Fungorum (https://www.speciesfungorum.org/)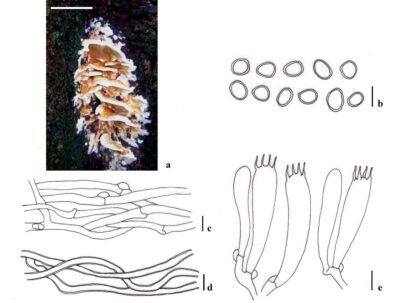 Figure 1. Serpula similis. a. Basidiomata. b. Basidiospores. c. Generative hyphae. d. Skeletal hyphae. e. Basidia and basidioles. Scale bars: b–e = 5 μm. Picture from Silva et al. 2019, drawn from b–e = Dai Y-C 2004.
References
Cooke WB 1943 – Some basidiomycetes from Mount Shasta. Mycologia, 35(3), 277–293.
Cooke WB 1957 – The genera Serpula and Meruliporia. Mycologia, 49(2), 197–225.
Dai Y-C 2004 – Serpula (Aphyllophorales, Basidiomycota) in China. Mycosystema, 23(1), 7–10.
Gray SF 1821 – A Natural Arrangement of British Plants. Vol. 1. London: Baldwin, Cradock and Joy. 637 p.
Persoon CH 1801 – Synopsis methodica fungorum (in Latin). Göttingen: Apud Henricum Dieterich. 496 p.
Silva RMFD, Soares AM, Pádua APSLD, Firmino AL, Souza-Motta CMD, Silva GAD, … Fan X 2019 – Mycological diversity description II. Acta Botanica Brasilica, 33, 163–173.
Skrede I, Engh IB, Binder M, Carlsen T, Kauserud H, Bendiksby M 2011 – Evolutionary history of Serpulaceae (Basidiomycota): molecular phylogeny, historical biogeography and evidence for a single transition of nutritional mode. BMC Evolutionary Biology, 11(1), 1–13.
Entry by
Ishika Bera, Center of Excellence in Fungal Research, Mae Fah Luang University, Chiang Rai 57100, Thailand
(Edited by Kevin D Hyde)