Fungalpedia – Note 81 Obruspora
Obruspora A. Diamant, S.B.S. Rothman, M. Goren, B.S. Galil, M.B. Yokes, A. Szitenberg & D. Huchon
Citation when using this entry: Wijayawardene et al., in prep – Fungalpedia, taxa of the basal fungi and fungus-like organisms. Mycosphere.
Index Fungorum, Facesoffungi, MycoBank, GenBank, Fig 1.
The monotypic genus Obruspora (Microsporidia, Enterocytozoonidae) was introduced by Diamant et al. (2014). This genus was described from Callionymus filamentosus in the Mediterranean Sea. It is a fish parasite and spores are developed within the host cell cytoplasm (Diamant et al. 2014). However, this genus is not currently considered a member of the fungal clade (Index Fungorum 2023).
Type species: Obruspora papernae A. Diamant, S.B.S. Rothman, M. Goren, B.S. Galil, M.B. Yokes, A. Szitenberg & D. Huchon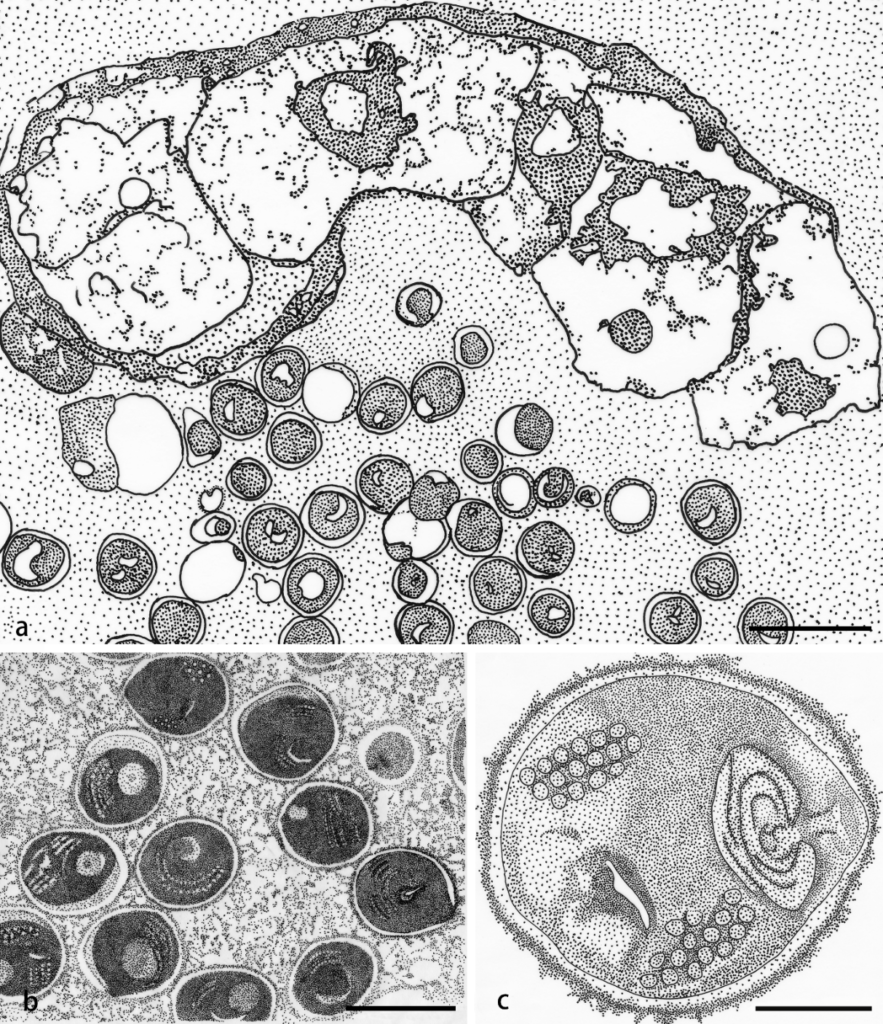 Figure 1 – Sporogonial plasmodia surrounded by mature spores of Obruspora papernae (redrawn from Diamant et al. 2014) a Mature spores in the cytoplasm next to an unidentified electron lucent body containing dark nucleus-like inclusion. b Mature spores in the paracrystalline array. c A single spore. Scale bars: a = 5 μm, b = 1 μm, c = 0.5 μm.
Reference
Diamant A, Rothman S, Goren, M, Galil, B et al. 2014 – Biology of a new xenoma-forming gonadotropic microsporidium in the invasive blotchfin dragonet Callionymus filamentosus. Diseases of Aquatic Organisms 109, 35–54.
Entry by
Tibpromma S & Dai DQ, Center for Yunnan Plateau Biological Resources Protection and Utilization, College of Biological Resource and Food Engineering, Qujing Normal University, Qujing, Yunnan 655011 P.R. China.
(Edited by Kevin D. Hyde)