Fungalpedia – Note 93 Fusarium
Fusarium Link
Citation when using this entry: Gomdola et al., in prep – Fungalpedia, forest pathogenic fungi. Mycosphere.
Index Fungorum, MycoBank, Facesoffungi, GenBank, Fig 1
Fusarium (Gibberella) was established and described by Link (1809) based on morphological characters, depicted by its conspicuous banana or canoe-shaped conidia. Fusarium roseum was designated as the type species. In 1821, the nomenclature of Fusarium was sanctioned by Fries, followed by the first monograph (Appel and Wollenweber 1910). Subsequently, many studies employing multiple approaches to revise the genus and delineate its species were carried out (Wollenweber 1935; Booth 1971; Crous et al. 2021; Yilmaz et al. 2021; Wang et al. 2022). Fusarium belongs to Nectriaceae (Hypocreales, Hypocreomycetidae, Sordariomycetes) (Maharachchikumbura et al. 2016; Hyde et al. 2020; Wijayawardene et al. 2020, 2022; Index Fungorum 2023). To date, 1742 and 433 species epithets are listed in Index Fungorum and Species Fungorum, respectively.
The genus has a cosmopolitan distribution, manifesting mostly as notorious phytopathogens that cause devastating diseases on a wide range of crops, ornamentals and forest trees (Summerell 2019). Different Fusarium species have varying host preferences and cause specific plant diseases, while others are generalists (Gomdola et al. 2022). These taxa are capable of infecting different parts of a plant including the leaves, stems, twigs, branches, roots and seeds. Diseases caused by Fusarium inflict significant economic losses worldwide. For example, fusarium wilt (Panama disease) of banana resulted in billion dollars losses to farmers (Ploetz 2015). Fusarium species also cause leaf and flower spots and root rots of ornamentals such as orchids (Srivastava et al. 2018). Furthermore, F. circinatum, an invasive necrotroph, causes pine pitch canker disease (McCain et al. 1987), and it is one of the major pathogens affecting pine worldwide (Wingfield et al. 2008). This pathogen has also been listed in the European and Mediterranean Plant Protection Organization (EPPO) A2 quarantine list (EPPO 2023).
Other diseases caused by Fusarium spp. include pitch canker (Bragança et al. 2009), crown rot (also known as foot rot and root rot) (Kazan and Gardiner 2018), ear rot (Mesterházy et al. 2012), fusarium wilt (Koike et al. 2009), and leaf spots and blights (Ichikawa and Aoki 2000; Li et al. 2013). While most Fusarium spp. are well-known plant pathogens, some species exhibit saprobic life modes and others colonize plants as endophytes (Summerell et al. 2011).
Fusarium species are traditionally delimited based on three species concepts namely, the biological, morphological and phylogenetic species concepts (Leslie et al. 2001). Crous et al. (2021) re-examined the fusarioid taxa in Nectriaceae and performed a phylogenetic analyses of the combined ITS, LSU, rpb1, rpb2 and tef1 sequences to classify Fusarium and allied genera. Yilmaz et al. (2021) categorized 196 Fusarium species into nine species complexes based on the combined ITS, LSU, Btub, CAM, IGS, rpb1, rpb2 and tef1 sequence data, whereby rpb2 region was the most effective in the species delineation of many Fusarium species complexes. Some studies proposed to maintain Fusarium and allied genera as a single genus while others segregated Fusarium sensu lato into multiple genera including Albonectria, Bisifusarium, Fusarium, Neocosmospora, and Rectifusarium (Lombard et al. 2015; Crous et al. 2021; Yilmaz et al. 2021).
For morphological comparisons, it is ideal to incorporate data related to both sexual and asexual morphs (Crous et al. 2021). Regarding conidia, Fusarium species are delimited based on the presence of macro- and micro-conidia. They are characterized primarily by thick-walled macroconidia that have different apical and basal cell shapes. Microconidia are sometimes present (Samiksha and Kumar 2021). Fusarium species are depicted mostly by hyaline, guttulate, 0- to multi-septate, fusiform or falcate, oval to clavate, or straight to slightly curved conidia, with a curved or conical apical and basal cell (Wang et al. 2022). Colonies display a range of colours when grown in artificial media such as MEA, PDA or WA, mostly seen as yellowish- to orange-white or pink to reddish or lilac mycelium. Many pathogenic Fusarium species produce appressoria prior to infecting their hosts (Chethana et al. 2021a, b).
Type species: Fusarium roseum Link
Other accepted species: Species Fungorum – search Fusarium for names.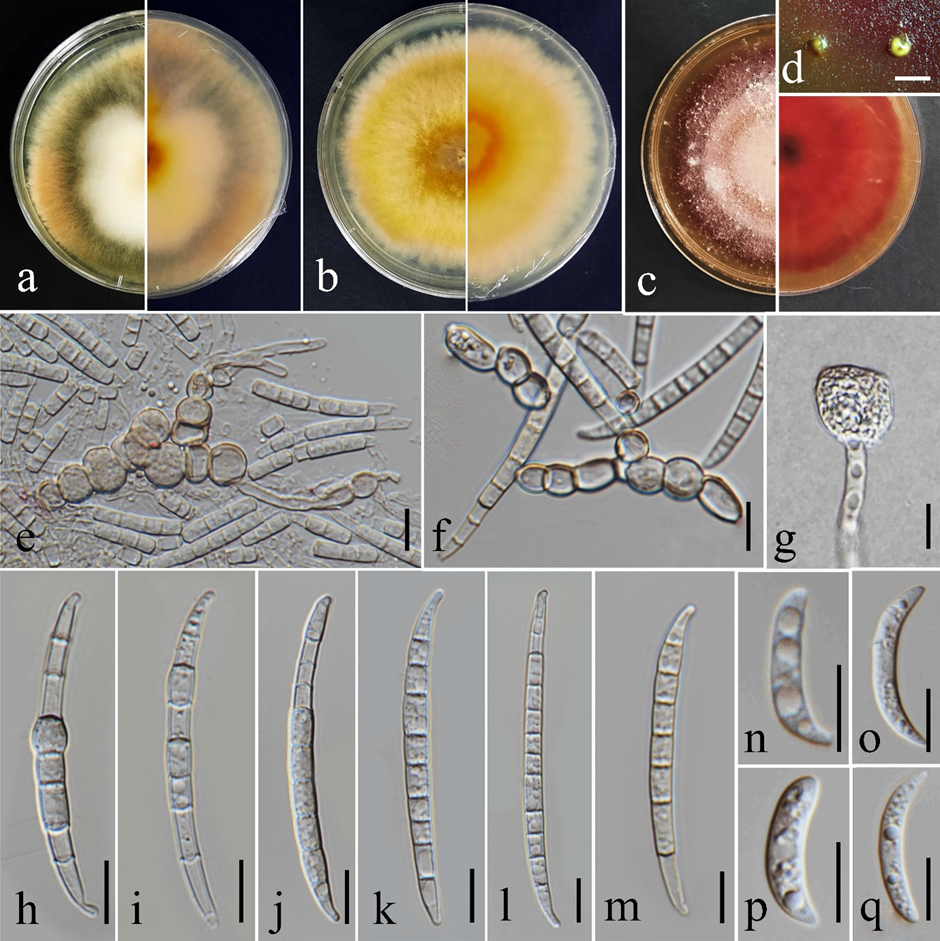 Figure 1 – Fusarium spp. A-c Top and reverse colony of Fusarium species. d Appearance of pycnidia in MEA. e, f Chlamydospores g Appressorium h-q Conidia. Scale bars: d = 2.5 mm, e-q = 10 μm.
References
Appel O, Wollenweber HW. 1910 – Grundlagen einer Monographie der Gattung Fusarium (Link). Arb Kais Biol Anst LandForstwirtsch 8, 1–217.
Booth C. 1971 – The genus Fusarium. Kew, UK, Commonwealth Mycological Institute.
Bragança H, Diogo E, Moniz F, Amaro P. 2009 – First report of pitch canker on pines caused by Fusarium circinatum in portugal. Plant Disease 93, 1079.
Chethana KWT, Jayawardena RS, Chen YJ, Konta S et al. 2021a – Diversity and function of appressoria. Pathogens 10(6), 746.
Chethana KWT, Jayawardena RS, Chen YJ, Konta S et al. 2021b – Appressorial interactions with host and their evolution. Fungal Diversity 110, 75–107.
Crous PW, Lombard L, Sandoval-Denis M, Seifert KA et al. 2021 – Fusarium: more than a node or a foot-shaped basal cell. Studies in Mycology 98, 100–116.
EPPO. 2022 – EPPO A2 List of pests recommended for regulation as quarantine pests.
Gomdola D, Bhunjun CS, Hyde KD. Jeewon R et al. 2022 – Ten important forest fungal pathogens: a review on their emergence and biology.Mycosphere 13, 612–671.
Hyde KD, Norphanphoun C, Maharachchikumbura SSN, Bhat DJ et al. 2020 – Refined families of Sordariomycetes. Mycosphere 11, 305–1059.
Ichikawa K, Aoki T. 2000 – New leaf spot disease of Cymbidium species caused by Fusarium subglutinans and Fusarium proliferatum. Journal of General Plant Pathology 66, 213–218.
Index Fungorum. 2023 – Available online: http://www.indexfungorum.org/Names/Names.asp (accessed on 5 June 2023).
Kazan K, Gardiner DM. 2018 – Fusarium crown rot caused by Fusarium pseudograminearum in cereal crops: recent progress and future prospects. Molecular Plant Pathology 19, 1547–1562.
Koike ST, Kirkpatrick SC, Gordon TR. 2009 – Fusarium wilt of strawberry caused by Fusarium oxysporum in California. Plant Disease 93, 1077.
Leslie JF, Zeller KA, Summerell BA 2001 – Icebergs and species in populations of Fusarium. Physiological and Molecular Plant Pathology 59, 107–117.
Li YY, Wang YJ, Xie ZK, Wang RY et al. 2013 – First report of lily blight and wilt caused by Fusarium tricinctum in China. Plant Disease 97, 993.
Link HF. 1809 – Observationes in ordines plantarum naturals. Dissetatio I. Magazin Ges. Nat. Freunde Berlin 3, 3–42.
Lombard L, Van der Merwe NA, Groenewald JZ, Crous PW 2015 – Generic concepts in Nectriaceae. Studies in Mycology 80, 189–245.
Maharachchikumbura SSN, Hyde KD, Jones EBG, McKenzie EHC et al. 2016 – Families of Sordariomycetes. Fungal Diversity 79, 1–317.
McCain A, Koehler C, Tjosvold S. 1987 – Pitch canker threatens California pines. California Agriculture 41, 22–23.
Mesterházy Á, Lemmens M, Reid LM. 2012 – Breeding for resistance to ear rots caused by Fusarium spp. in maize – a review. Plant Breeding 131, 1–19.
Ploetz RC. 2015 – Fusarium wilt of banana. Phytopathology 105(12), 1512–1521.
Samiksha and Kumar S. 2021 – Molecular taxonomy, diversity, and potential applications of genus Fusarium. In Industrially Important Fungi for Sustainable Development. Fungal Biology 1, 277–293.
Species Fungorum. 2023 – Available online: http://www.speciesfungorum.org/Names/Names.asp (accessed on 5 June 2023).
Srivastava S, Kadooka C, Uchida JY. 2018 – Fusarium species as pathogen on orchids. Microbiological Research 207, 188–195.
Summerell BA, Leslie JF, Liew ECY, Laurence MH et al. 2011 – Fusarium species associated with plants in Australia. Fungal Diversity 46, 1–27.
Summerell BA. 2019 – Resolving Fusarium: Current Status of the Genus. Annual Review of Phytopathology 57, 323–339.
Wang MM, Crous PW, Sandoval-Denis M, Han SL et al. 2022 – Fusarium and allied genera from China: species diversity and distribution. Persoonia 48(1), 1–53.
Wijayawardene NN, Hyde KD, Al-Ani LKT, Tedersoo L et al. 2020 – Outline of Fungi and fungus-like taxa. Mycosphere 11, 1060–1456.
Wijayawardene NN, Hyde KD, Dai DQ, Sánchez-García M et al. 2022 – Outline of Fungi and fungus-like taxa – 2021. Mycosphere 13, 53–453.
Wingfield MJ, Hammerbacher A, Ganley RJ, Steenkamp ET et al. 2008 – Pitch canker caused by Fusarium circinatum – A growing threat to pine plantations and forests worldwide. Australasian Plant Pathology 37, 319–334
Wollenweber HW. 1935 – Fusaria Autographice Delineata 4, 1101–1200. Berlin.
Yilmaz N, Sandoval-Denis M, Lombard L, Visagie L et al. 2021 – Redefining species limits in the Fusarium fujikuroi species complex. Persoonia 46, 129–162.
Entry by
Gomdola D, Center of Excellence in Fungal Research, Mae Fah Luang University, Chiang Rai 57100, Thailand; School of Science, Mae Fah Luang University, Chiang Rai 57100, Thailand.
(Edited by Ruvishika S. Jayawardena & Kevin D. Hyde)