Fungalpedia – Note 95 Conioscypha
Conioscypha Höhn.
Citation when using this entry: Mukhopadhyay et al., in prep – Fungalpedia, Savoryellomycetidae and ascomycete terminology. Mycosphere.
Index Fungorum, Facesoffungi, MycoBank, GenBank, Fig 1.
Höhnel (1908) established the dematiaceous hyphomycete genus Conioscypha (Shearer 1973), with C. lignicola as the type species from submerged Carpinus wood in Austria. Conioscypha has compact and erumpent colonies with immersed, hyaline to sub-hyaline branched and septate hyphae. Conidiogenous cells arise laterally or terminally on the hyphae, are enteroblastic, hyaline, and short-stalked. Conidia are one-celled, dark-brown, variable in shape, smooth-walled, and have a scar at the point of secession (Shearer 1973). Shearer (1973) also introduced another species C. varia Shearer, from balsa wood, which morphologically differs from C. lignicola by having smaller, more elongated, thinner-walled conidia which are more variable in shape as compared to C. lignicola. Réblová & Seifert (2004) introduced the sexual morph C. varia and named it Conioscyphascus Réblová & Seifert. Conioscyphascus produces small, several layered and pale orange perithecia with long ostioles, unitunicate, 8-spored asci with an inamyloid refractive apical ring, and septate, fusiform ascospores (Réblová & Seifert 2004). Réblová & Seifert (2004) observed the anamorph of Conioscypha from the isolated ascospores which were identical to C. varia (Shearer 1973). Based on molecular phylogeny using LSU, Conioscypha and Conioscyphascus formed a clade with strong statistical support, which proved that they are congeneric. Because of the "one fungus / one name" concept, Conioscyphascus was considered a synonym of Conioscypha (Zelski et al. 2015; Réblová et al. 2016). Based on the multigene phylogeny of LSU-SSU-rpb2, Réblová et al. (2016) established the monotypic order Conioscyphales (Conioscyphaceae, Hypocreomycetidae). Hongsanan et al. (2017), transferred Conioscyphales into Savoryellomycetidae with Conioscypha as the only genus, based on phylogeny. Out of 17 accepted species, six species grow on submerged wood in freshwater habitats and one was isolated from twigs in a freshwater habitat, eight are saprobes, and two were isolated from soil (Chuaseeharonnachai et al. 2017, Liu et al. 2019b, Hyde et al. 2020).
Type species: Conioscypha lignicola Höhn.
Other accepted species:
C. aquatica Z.L. Luo, K.D. Hyde & H.Y. Su (2019)
C. bambusicola Matsush. (1975)
C. boutwelliae Hern.-Restr. (2018)
C. dimorpha Matsush. (1996)
C. fabiformis Matsush. (1993)
C. gracilis (Munk) Zelski, Raja, A.N. Mill. & Shearer (2014)
C. hoehnellii P.M. Kirk (1984)
C. japonica Udagawa & Toyaz. (1983)
C. minutispora Hern.-Restr., Gene & Guarro (2014)
C. nakagirii Chuas., Somrith., Suetrong, Boonyuen (2017)
C. peruviana Zelski, Raja, A.N. Mill. & Shearer (2015)
C. pleiomorpha Hern.-Restr., R.F. Castaneda & Gene (2017)
C. submersa Z.L. Luo, K.D. Hyde & H.Y. Su (2019)
C. taiwania J.L. Chen & Tzean (2000)
C. tenebrosa N.G. Liu, K.D. Hyde & J.K. Liu (2019)
C. varia Shearer (1973)
C. verrucosa J. Yang & K.D. Hyde (2020)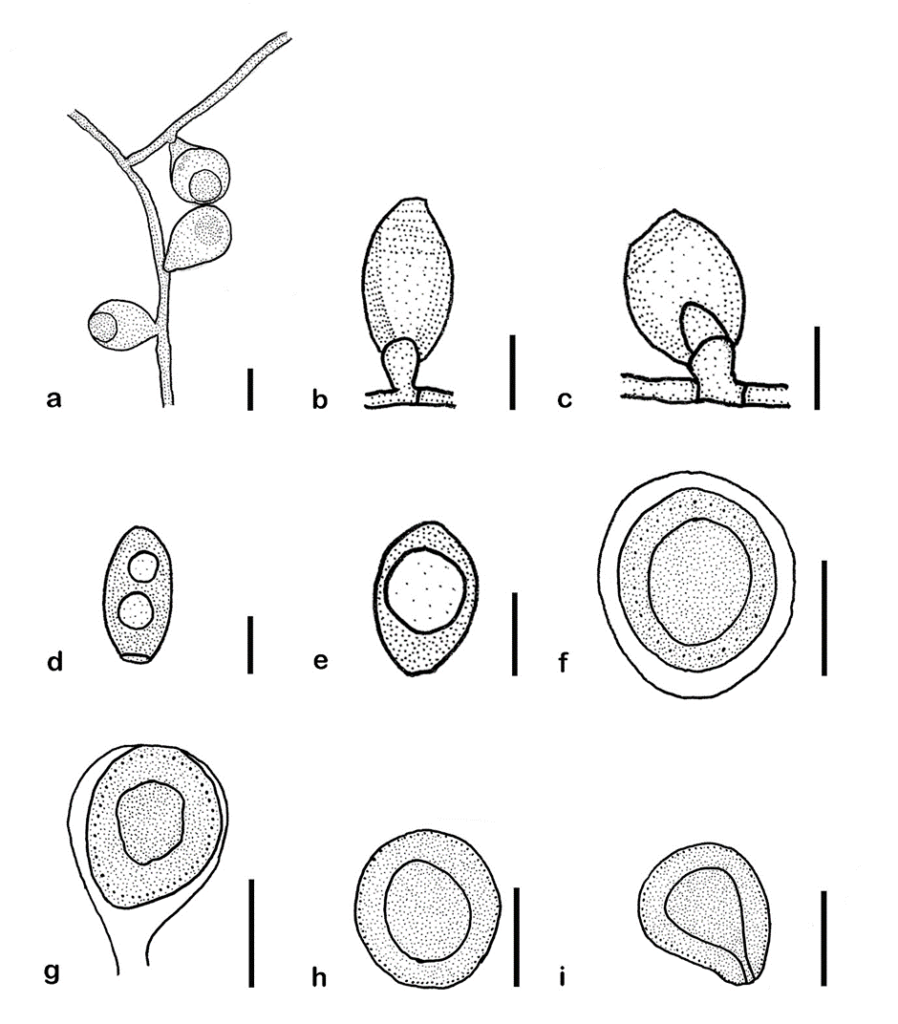 Figure 1 – Conioscypha spp. a Conioscypha hoehnelii conidiogenous cell. b-e Conioscypha taiwaniana conidiogenous cells and conidia with 1-2 oil droplets (redrawn from Chen & Tzean 2000). f-i Conioscypha lignicola (CS-175, holotype, redrawn from Shearer 1973). f, g Mature conidia surrounded by collarettes. h, i Mature conidia with pigment deposited irregularly along the periphery of the thickened walls. Scale bars: a-i = 10 μm.
References
Chen JL, Tzean SS. 2000 – Conioscypha taiwaniana sp. nov. and several new records of the genus from Taiwan. Botanical Bulletin of Academus Sinica 41, 315–322.
Chuaseeharonnachai C, Somrithipol S, Suetrong S, Klaysuban A et al. 2017 – Conioscypha nakagirii, a new species from naturally submerged wood in Thailand based on morphological and molecular data. Mycoscience 58, 42–431.
Hongsanan S, Maharachchikumbura SSN, Hyde KD, Samarakoon MC et al. 2017 – An updated phylogeny of Sordariomycetes based on phylogenetic and molecular clock evidence. Fungal Diversity 84, 25–41.
Hyde KD, Dong Y, Phookamsak R, Jeewon R et al. 2020 – Fungal diversity notes 1151—1276: taxonomic and phylogenetic contributions on genera and species of fungal taxa. Fungal Diversity 100, 5–277.
Liu NG, Bhat DJ, Hyde KD, Liu JK. 2019b – Conioscypha tenebrosa sp. nov. (Conioscyphaceae) from China and notes on Conioscypha species. Phytotaxa 413, 159–171.
Réblová M, Seifert KA. 2004 – Conioscyphascus, a new ascomycetous genus for holomorphs with Conioscypha anamorphs. Studies in Mycology 50, 95–108.
Réblová M, Seifert KA, Fournier J, Štěpánek V. 2016 – Newly recognized lineages of perithecial ascomycetes: the new orders Conioscyphales and Pleurotheciales. Persoonia 37, 57–81.
Shearer CA. 1973 – Fungi of the Chesapeake Bay and its tributaries II. The genus Conioscypha. Mycologia 65, 128–136.
Zelski SE, Raja HA, Miller AN, Shearer CA. 2015 – Conioscypha peruviana sp. nov., its phylogenetic placement based on 28S rRNA gene, and a report of Conioscypha gracilis comb. nov. from Peru. Mycoscience 56, 319–325.
Entry by
Mukhopadhyay S., Center of Excellence in Fungal Research, School of Science, Mae Fah Luang University, Chiang Rai 57100, Thailand
(Edited by Chayanard Phukhamsakda & Kevin D. Hyde)