Fungalpedia – Note 12 Alborbis
Citation: Bhunjun et al. 2023 – Fungalpedia, genera described in 2018, Mycosphere (in press)
Alborbis Crous
Alborbis galericulata was previously introduced as Cryptodiaporthe galericulata, but it is phylogenetically and morphologically different from the type species of Cryptodiaporthe (Kruys & Castlebury 2012). Based on phylogenetic analysis of ITS, LSU, tef and rpb2 sequences, A. galericulata formed a clade in Sydowiellaceae (Senanayake et al. 2017). Hence, the monophyletic genus Alborbis was introduced by Senanayake et al. (2017), with a single species A. galericulata. It is classified under Sordariomycetes, Diaporthomycetidae, Diaporthales, Sydowiellaceae (Senanayake et al. 2017). The name of this genus means the ascomata opens up to the surface of its host through a whiten disk, which is derived from two Latin words "alba" and "orbis" (Senanayake et al. 2017). The type species, Alborbis galericulata is the only member that belongs to Alborbis. The sexual morph of A. galericulata has been found on dead stems of Fagus sylvatica as saprobes, whereas the asexual morph is undetermined (Senanayake et al. 2017). They appear as small fusoid ectostromatic to elliptic disks with wide, black ostiole. The peridium of A. galericulata has a thick wall of dark brown cells of textura angularis. The asci are clavate to cylindrical with a J– apical ring and short pedicellate. Asci contain 8 ascospores which are often 4–guttulate, hyaline and cylindrical to ellipsoid in shape (Senanayake et al. 2017).
Type species: Alborbis galericulata (Tul. & C. Tul.) Senan. & K.D. Hyde
Basionym: Valsa galericulata Tul. & C. Tul.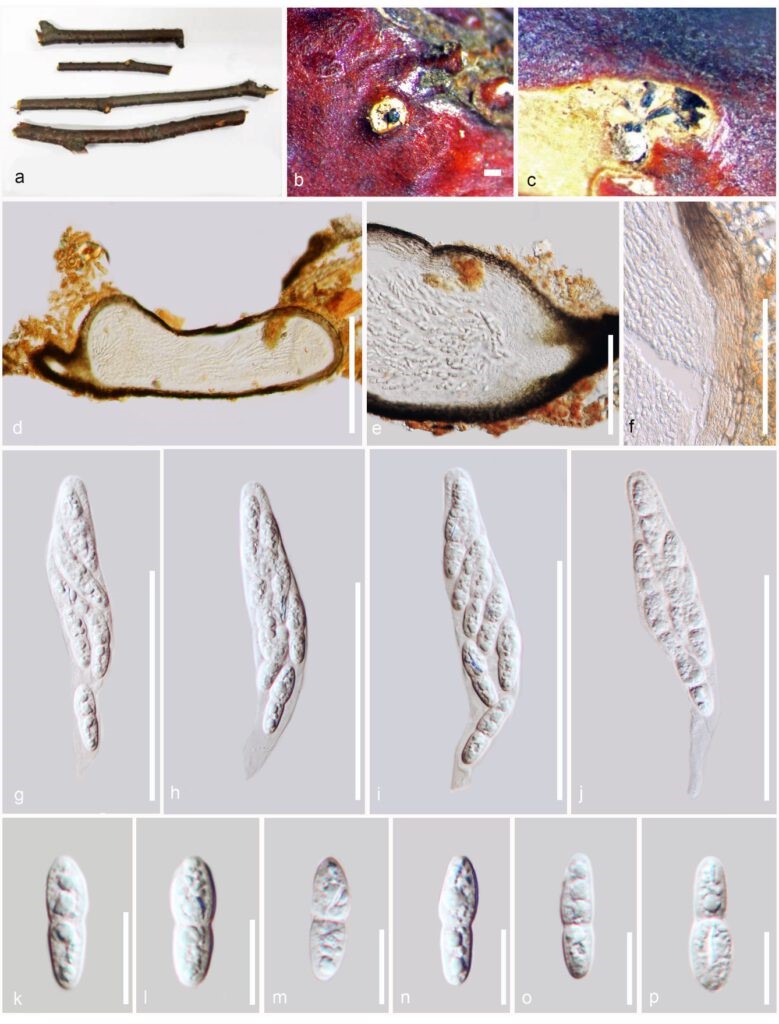 Fig 1. Alborbis galericulata (IMI 6600) a Herbarium specimen. b Appearance of ascomata on host surface. c Horizontal section of ascomata through the ectostromatic disc. d – e Vertical cross section through the ascomata. f Peridium. g – j Asci. k – p Ascospores. Scale bar = d: 200 μm, e: 100 μm, f: 50 μm, g – j: 50 μm, k – p: 10 μm. Photo credit: I.C. Senanayake.
References
Senanayake IC, Maharachchikumbura SSN, Jeewon R, Promputtha I, Al-Sadi AM, Camporesi E, Hyde KD. 2017 – Morphophylogenetic study of Sydowiellaceae reveals several new genera. Mycosphere 8(1): 172–217. http://dx.doi.org/10.5943/mycosphere/8/1/15
Kruys A, Castlebury LA. 2012 – Molecular phylogeny of Sydowiellaceae–resolving the position of Cainiella. Mycologia 104, 419–426. http://dx.doi.org/10.3852/11-163
Entry by
Anujani Gunarathne, Center of Excellence in Fungal Research, Mae Fah Luang University, Thailand
(Edited by Chitrabhanu S. Bhunjun and Kevin D. Hyde)